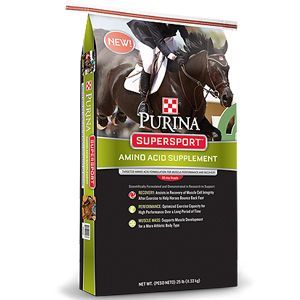 Argyle Feed Store is proud to carry Purina horse feeds and supplements. We now carry Purina SuperSport Amino Acid Supplement for horses. This supplement is scientifically proven to support recovery, performance and muscle mass. This supplement is recommended for horses of all ages and lifestyles. Purina SuperSport will help your horse bounce back faster after exercise, increase capacity for a longer and more sustained performance, and help the horse develop muscle.
Save up to $7 off your next bag of Purina SuperSport at Argyle Feed Store.  Like us on Facebook for a $2 off coupon.  Next, go to Purina's website and sign up to receive a $5 coupon off SuperSport.
If you desire a more athletic body type for your horse, then this is the supplement for your horse. For more information on Purina SuperSport Amino Acid Supplement, then please click here to view the nutritional information on this product.
Here at Argyle Feed Store, we are committed to making sure you find exactly what you are looking for. If you have any questions about this horse supplement or any other products we offer, then please click here to visit our product page. We will be more than happy to answer any questions you may have.