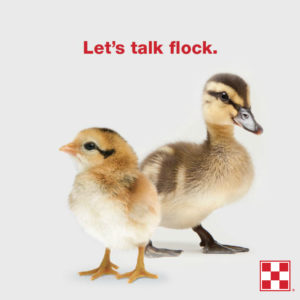 Learn more about how to raise a happy and healthy flock at our upcoming 2022 Flock Talk Workshop on Tuesday, March 22, at 6:00 pm.
Bob Wucher with Purina Animal Nutrition discusses how to get your new chicks off to a successful start. Don't miss this free meeting. Don't forget the door prizes and giveaways. Attendees who signup online and attend the meeting will have a chance to win prizes throughout the meeting. Dinner is included for registered attendees.
Sign up using our convenient online registration form below or contact Argyle Feed & Hardware at 940-241-4444.
Argyle Feed has everything you need to give your flocks a healthy start. From starter feeds to heat lamps, waterers, feeders, and shavings, we'll be ready for your new flock.