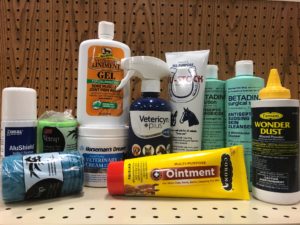 Save 10% Off Animal Wound Care products at Argyle Feed Store. You must by three items to redeem this offer. Valid from May 1st to May 6th. We have Vetraps, gauge, linament, Scarlex, Wonder Dust, AluShield, and Vetericyn products in our pet center.
When a horse injures its leg a 3M Vetrap or gauge will be needed to wrap its leg and keep it steady as it heals. Vetrap 4" bandaging tape is the first choice in self-adherent wraps, preferred by the majority of professional horse trainers and veterinarians. Its layers "bond" together to provide superior support bandages that stay put for the strongest holding power, better fit and conformity to reduce the risk of slipping and strength where it matters.
Cleaning and treating a wound properly during the first six hours after injury can help reduce the chance of infection. Protect your horse with Scarlex® Scarlet Oil Spray Wound Dressing. Combines antiseptic, germicidal and fungicidal properties for broad protection.
Wonder Dust is a dressing powder and blood coagulant for use on certain types of wounds, cuts, and abrasions. Formulated for use on horses and show stock, it is for speed healing of your horse's wounds. Professional dressing powder stops bleeding, dries wounds, and promotes healthy tissue formation. Safe for use on wounds, cuts, abrasions, and capillary bleeding.
Another great product is AluShield™ which is an aerosol bandage. It is the fastest and easiest way to protect wounds without a bandage. A thin layer of powder allows wound to breathe while protecting it from water, dirt, and bacteria.
Last but not least, Vetericyn is a one-step wound and skin care product for animals. It is a non-toxic, broad-spectrum antimicrobial.Vetericyn doesn't harm healthy tissue and is safe for use on all animal species of all ages.Vetericyn is non- toxic, steroid- free, antibiotic- free.
Tags: Animal Wound Care, gauge, linament, scarlex, vet wraps, Vetericyn, wonder dust