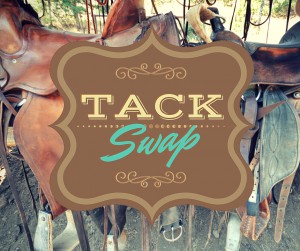 Have used or unneeded tack? Argyle Feed hosts our next Tack Swap Event set for Saturday, June 18th. This event is a great opportunity to sell or buy tack and equipment. Tack Swap Hours are 10 am 'til 4pm. Bring your saddles, bridles, blankets, saddle pads, bits, boots, show jackets/vests, chaps or basically any horse related item.
We'll have a designated area set up outside for you to set up a table and sell for the day. Reserve your space by Thursday, June 16th— call the store at (940) 241-2444 or send an email to [email protected].  Space reservations are free if you are bringing your own tables— if you need a table, please let us know when you contact us to reserve. A small fee will be required to cover table rental. Each space will be approximately 10 X 10 feet.
In addition to the Tack Swap, Argyle Feed is also hosting a Pet Adoption event during the swap sale. Dashing Dog Rescue, a Lewisville-based non-profit pet rescue group, will have foster animals available for adoption.
TACK SWAP DAY REMINDERS
Please go here to see Tack Swap Guidelines and Helpful Hints for Selling Your Tack
Tack Swap check-in/set-up will be from 9 am to 9:30am

If you are renting tables from us, rental fees are payable before set-up.

You will be setting your prices and negotiating those prices. Please have change available for your customers. The store will not be able to make change for buyers or sellers.
Sign up early to speed up the check-in process.
Please make sure you have someone at your space at all times during the Tack Swap; there will be NO security provided to watch your treasures!
Cash sales only! All sales are FINAL. There are NO RETURNS.