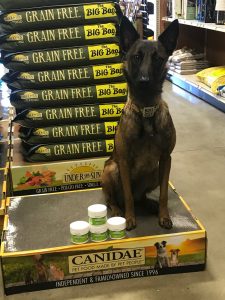 Tomlyn is a deep moisturizing pad cream for dogs that heals paws, pads, and elbows. This formula is able to restore moisture to calloused paw pads. It softens brittle nails and calloused elbow joints caused by rough hard surfaces. The best part is this product is non-toxic so even if your dog licks it they are safe. Apply the cream as needed. Work Tomlyn® Deep Moisturizing Pad Cream into cracks and crevices of pads and elbows and other calloused areas.
Tomlyn Pad Cream Benefits
Deep moisturizer-great for active, hunting, & senior dogs as well as weather conditions
Non-waxy feel
Pleasant, minty smell
Restores moisture, pliability, and resiliency to calloused paw pads and nails
Cools and soothes the paws
100% Satisfaction Guaranteed!
Stop dry cracked paws, pads, and elbows with Tomlyn pad cream now available at Argyle Feed Store!