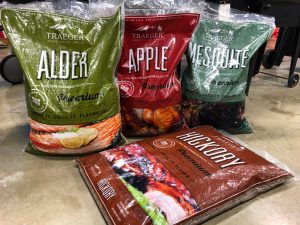 Traeger Grilling Pellets and Sauces are available at Argyle Feed Store including Smoked Bloody Mary Mixes and Smoked Simple Syrup.
The Traeger premium wood pellets are considered the best on the market. Made from 100% natural, food-grade hardwood, these pellets create the perfect burn for optimal wood-fired flavor. Made in the USA and overseen from sawmill to the shelf, it provides the cleanest, healthiest fuel source available with endless flavor combinations.
Tie the whole meal together by infusing your beverages with wood-fired flavor. Traeger's Smoked Simple Syrup features sweet notes of vanilla and clove, balanced with a light, smoky flavor, and is the perfect addition to your next cocktail. Try out a recipe here.
These pellets are perfect for the Traeger Grills of course, available for the PRO 575 and PRO 780. Traeger wood pellet grills pack big hardwood flavor, from sweet cherry to savory mesquite, into everything you grill, smoke, bake, roast, braise, & BBQ.
Get your grilling hat on and fire up that grill with the Traeger Pellets & Sauces!
Tags: Traeger Accessories, Traeger Grills, traeger pellets, traeger wood pellets