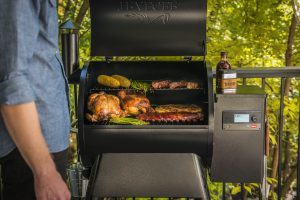 Shop for Traeger Grills at Argyle Feed & Hardware. Find the Right Traeger Grill for Your Needs. Shop Now. Free In-Store Pickup. Models include Pro 575 Wifi-Enabled, Pro 780 Wifi-Enabled, and more. You Can Grill, Bake, Smoke, Roast, Braise & BBQ With Traeger Wood Pellet Grills. Owning a Traeger Is Like Having A Second Oven. Taste The Traeger Difference!
A Traeger grill is the original wood fire grill. Learn about our 6-in-1 cooking versatility. You can grill, bake, smoke, roast, braise, & BBQ with Traeger. It's the original and best pellet grill. Hardwood pellets fuel the fire and add incredible flavor. Pick the temperature you want, then Set-it & Forget-it®. Create flavorful moments your friends and family won't forget.
Come see our store selection. We offer the latest grills.