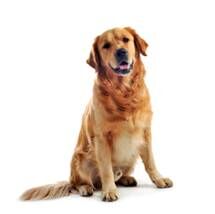 According to AAA and Best Western International, 50% of U.S. owners travel with their pets. With this in mind, here are some safety tips to make traveling with your pet safe and enjoyable.
When packing the car, be certain to leave plenty of room for your dog to shift position and be comfortable. When traveling with your cat, the carrier should be large enough for them to stand and easily turn around. Also, leave plenty of room for a litter pan for your cat to use when you stop to rest.
Pack plenty of food for your trip or vacation. Running out and having to suddenly change food may cause illness or diarrhea. This is especially important for pets on prescription diets that cannot be routinely purchased. As a good rule of thumb, take enough food for your trip length plus 2 extra days. For longer trips consider packing your pet's regular bed or blanket and several toys. Just like those of us that travel with our favorite pillow, some pets feel more comfortable sleeping in their own beds.
f your pet takes medication, count them to be certain you have enough for the trip, plus 2 days. It can be difficult to get more medication if you run out. Veterinary hospitals require a physical exam before dispensing prescription medications. If you are flying, be sure all medications are in the original bottle and properly labeled. If your pet is prone to colitis from stress or dietary indiscretion while traveling, consider asking your veterinarian for appropriate medication to keep on hand during your travels.
Make certain your pet has proper identification should they get lost. This includes a collar with an ID tag, rabies tag and county registration tag where required. Strongly consider a permanent form of identification such as a microchip. If your dog or cat slips out of their collar and escapes in an unfamiliar location, a microchip may be the only way for them to be identified and returned safely. Consider keeping pictures of all 4 sides of your pet, including unique markings, in your pet travel kit or permanently stored in your cell phone. Some shelters require visual proof when picking up a lost pet.
Keep a copy of your pet's current rabies certificate with you. Some hotels and all campgrounds require it. If traveling to a National Park, be aware there are specific rules about where dogs can go in the park. Having a copy of all of your pet's current vaccinations may be necessary if they need to board at a facility outside of the park.
For car travel, plan on stopping every 2-3 hours to allow your pet 10-15 minutes to get out, move around, get a drink or relieve themselves. Cats should be allowed to get out of the carrier and wander around the car and use the litter box. Do not get in and out of the car until your cat is back in the carrier. If they get scared and bolt, you may not be able to catch them.
Ziploc® bags. You can never have enough while traveling. They can be useful for portioning out food for day trips, poop collection, or as a makeshift water bowl. A package of baby wipes can also be useful for those occasional accidents that happen.
If staying in a hotel, be courteous and respectful to other guests. Keep your pet leashed and quiet in public spaces. Consider bringing some extra sheets or blankets to help protect hotel furniture from your pet and prevent extra pet damage charges.
For plane travel, check with your airline ahead of time for specific pet travel requirements. Most airlines require a current Rabies Certificate, Health Certificate and a Statement of Temperature Acclimation. Small dogs and cats may be allowed in the cabin if the carrier fits under the seat. As a general rule, only 1 pet is allowed in the cabin per flight, so if there is more than one, be prepared for your pet to travel in the cargo hold.
If you anticipate needing a rental car, call ahead to check on specific rental car rules and restrictions.
Carry a Pet First Aid Kit when you travel. You never know when a cut pad, broken nail, an insect bite or sting is going to happen.
Article Source: Nutrena
Stop by Argyle Feed Store for all your pet food and supply needs today!
Tags: dog on plane, pet travel, road trip with pets, traveling tips