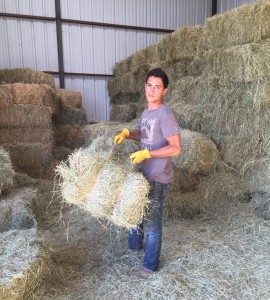 Our hay supply at Argyle Feed is plentiful right now even with of recent rains and seasonal weather changes. We are keeping the warehouse well stocked with high-quality 2 and 3 string Coastal, Straw and Timothy hay.  Shop Argyle Feed with confidence for all of your hay and straw supplies as we get into the wetter and colder weather.  We have plenty of hay inventory on hand to get through the coming months.
Argyle Feed sources its hay supply from top hay producers to ensure the hay you receive is fresh and of the highest quality. Choosing the right hay is important for the nutritional health of your horse.  Compared to other nonruminant (single digestive system) animals, the horse has a relatively small stomach, normal-sized small intestine and a large hind gut. This digestive arrangement makes the horse better suited to grazing continuously than to having one or two large meals a day. You invest a lot of care and appreciation in your horses, so it is wise to spend some time considering their primary diet.
Visit us today at Argyle Feed for the best prices around on round and square bales— Shop with confidence knowing you are receiving a top quality hay supply when you purchase from us. We can get you loaded up and, we deliver!