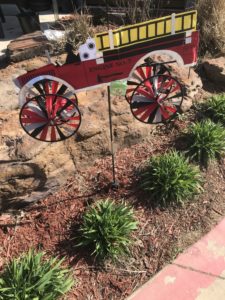 Save 35% on in-stock Wind Spinners at Argyle Feed Store this April, while supplies last. We have a wide selection of beautiful spinners to decorate your lawn and garden. These mesmerizing spinners add motion to your landscape.
There are many names that spinners are also known by. These are whirligigs, also known as pinwheels, buzzers, comic weathervanes, gee-haws, spinners, whirlygigs, whirlijigs, whirlyjigs, whirlybirds, or plain whirly. Whirligigs are most commonly powered by the wind but can be hand, friction, or motor powered. They can be used as a kinetic garden ornament. One interesting use for spinners is to repel burrowing rodents in yards, gardens, and backyards. They would need to be designed where it can transmit sound and vibration into the ground in order to scare off rodents, gophers, opossums, raccoons and other pests.
You won't be disappointed as we have a variety of sizes, colors, and designs to fit your style. The kinetic spinning designs create a colorful and whimsical accent to any backyard. When the wind blows, these beautiful whirlgigs give off that therapeutic spinning motion that everyone loves.
Create a beautiful garden or backyard this spring and stop by Argyle Feed and pick up one of our decorative wind spinners.
Tags: garden accent, pinwheels, whirlgigs, whirligigs, whirly, wind spinners