The one you have been waiting for, the limited edition Yeti Tundra cooler in seafoam color has finally arrived at Argyle Feed Store. It's just in time for spring's outdoor adventure. Whether you're an avid hunter, fisherman, camper, or just tailgating at your favorite game, it's the one you can count on.
Yeti Was Born
In 2006, two brothers Ryan and Roy Seiders who were passionate outdoorsmen created a cooler revolution. They were frustrated with the cheap coolers that were mass produced but couldn't withstand their standard of outdoor activities. Built to withstand the tough outdoors, the Yeti was born. Considered to be the king of all coolers, it was made for rough terrain.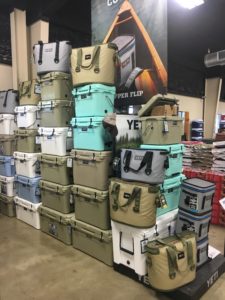 Built to last, it's a fan favorite among serious outdoor adventurers and tailgaters.
We have the Tundra in other colors like white, blue, and beige. It comes in various sizes as well. Call the store for more details. Hurry this one is going fast, get yours today before our stock runs out.