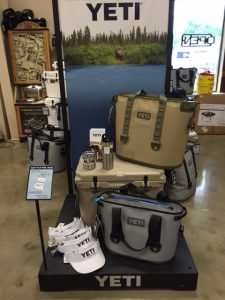 During our August 20th Hunting Extravaganza, we're giving you a great deal when you buy any YETI COOLER at Argyle Feed & Hardware! Purchase any YETI cooler this day and we'll give you $25 to spend on your next visit to Argyle Feed.  We have a great selection of all things YETI:  Tundra, Roadie and Hopper Coolers as well as the Rambler series of drinkware including the YETI Colster,  20 & 30 oz YETI Rambler tumblers and, of course, the new YETI Rambler Bottles.
Unlike ordinary coolers, which are essentially disposable, YETI Coolers are made to last!  
Tundra Coolers
The original and still the best heavy-duty cooler around, the YETI Tundra is a rugged, all-purpose, large cooler that comes in a variety of sizes for wilderness expeditions, hunting, fishing, tailgating, and more.
Roadie 20
Small but mighty, the YETI Roadie is the best personal cooler you'll ever find to protect your drinks from the heat. Built with the same hardy one-piece construction and ice-retaining insulation as our Tundra ice chests, this small personal cooler is equipped with a heavy-duty stainless steel handle for better portability.
Hopper 20 & 30
Ordinary soft-sided coolers are flimsy, frail, and only slightly better at cooling beverages than just leaving them in the shade. But the YETI Hopper is a portable cooler of a different color. No matter where you carry it or how you handle it, the Hopper won't leak or break. And just like all YETI Coolers, it's over-engineered to keep ice for days.
Rambler Series
YETI Ramblers are advanced personal drink coolers made from 18/8 stainless steel with double-wall vacuum insulation. Rambler Tumblers will keep your soda or mixed drinks cold twice as long as plastic cups, and make an excellent YETI coffee mug. The Rambler Colster locks in the cold of cans and bottles using a heat-mocking ThermoLock™ Gasket. Available in 20 and 30 ounce sizes.
Rambler Bottles
This stainless steel, double-wall vacuum insulated Rambler will keep your beverage as cold as science allows. But having the frostiest beer in the world doesn't do you much good if you can't get it open. YETI bottles are extra-durable and come in a range of sizes that fit in your pocket, in your bar drawer, and even in your cooler. Available in 18, 36 and 64 ounce sizes.
Visit us first at Argyle Feed & Hardware for YETI on Saturday, August 20th:  Get your YETI Cooler just in time for tailgating and hunting season and we'll treat you to a $25 coupon just for shopping at Argyle Feed & Hardware.