NutriSource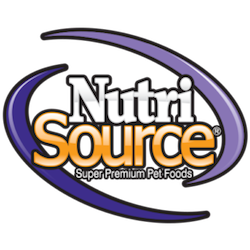 NutriSource is highly digestible for maximum nutrient absorption, and each formula is nutritionally complete, so more of the concentrated nutrition is retained by your dog. You can feed your dog less— as much as two-thirds less than other brands. Compare the NutriSource price and you'll see this means your cost per feeding is less than the competition. And by feeding smaller, more easily digestible portions, your dog produces less waste.
When formulating Nutrisource, Pure Vita and Natural Planet products, every ingredient is carefully considered. They are particular about their suppliers so they can guarantee that the raw ingredients will pass the very stringent testing. They are equally conscientious about how the food is made so they manufacturer their own kibble in a state of the art AIB certified facility utilizing the most consummate quality control standards. They also mill their own legumes and grains, grind our own meats and cook under 200 degrees to maximize nutrition. All these efforts result in nutrient-dense recipes that maximize bio-availability.
Good Food Feeds a Pet. Great Food Nourishes Your Pet's Whole Body.
If you have any questions about any of these products or any other products available at Argyle Feed & Hardware, please give us a call or stop by the store today. We are happy to help in any way.