Maximum Bully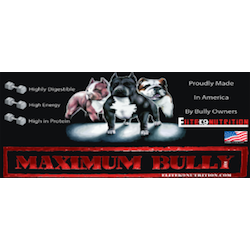 Packed with 32% protein and 22% fat, Maximum Bully's formulated dry dog food also includes Nupro 2000–a powerful yeast protein perfect for building strong muscles and optimum health. Built with multiple protein sources, amino acids, vitamins and nutrients for the perfect balanced diet for the bully breed. Promotes a healthy digestive system by containing oatmeal, cranberry, probiotics, and pumpkin. Maximum Bully pride themselves on including real chicken and pork meal as the first two ingredients for necessary energy, lean muscle, and muscle maintenance.
Formulated for Multiple Breeds: American Bulldog, Boston Terrier, English Bulldog, French Bulldog, American Pitbull Terrier, Bull Terrier, American Staffordshire Terrier, Bull Mastiff, Great Dane, Doberman Pincher, Mastiff, Rottweiler, German Shepard, Cane Corso, Akita, Boxer, Chow Chow and Nuvi Bulldog.
If you have any questions about any of these products or any other products available at Argyle Feed & Hardware, please give us a call or stop by the store today. We are happy to help in any way.