Sportmix Caninex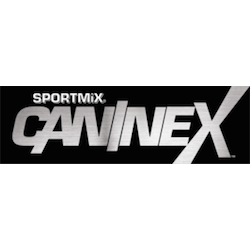 Sportmix Caninex will help your dog endure any daily activity by providing the nutrition he needs for sustained energy, muscle function, and mental focus. The supplemental Xtreme pack in CanineX™provides a revolutionary compound of Antarctic krill meal and L-carnitine, a powerful support for building and maintaining lean muscle mass, proper brain function, and a healthy immune system.
Made without corn, wheat, soy or by-products, CanineX™ is an excellent grain & gluten-free alternative diet for any active dog. This antioxidant recipe is enriched with vitamin E and vitamin C, along with glucosamine and chondroitin sulfate, for proper development and function of bones and joints. Fibers from nutrient-rich vegetables and fruits, such as peas, apples, blueberries, carrots, spinach, and cranberries help overall digestion. Fortified with balanced Omega-6 & Omega-3 fatty acids, CanineX™ helps support healthy vision, skin and hair coat.
Eat better. Work better. SPORTMiX® CanineX™.
If you have any questions about any of these products or any other products available at Argyle Feed & Hardware, please give us a call or stop by the store today. We are happy to help in any way.