Triple Crown Senior Gold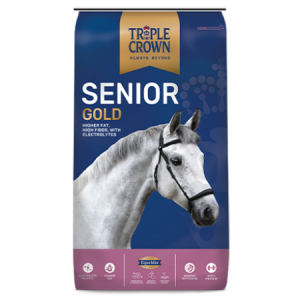 Triple Crown Senior Gold is a super premium grain free, beet pulp based feed for all horses. This feed is ideal for older horses and horses unable to masticate their feed or forage adequately.
Gold Senior is a softer feed that can be mixed with water to form a mash for horses that suffer from choke or are otherwise unable to masticate and swallow their feed normally. The low soluble carbohydrate level of Gold Senior makes it a dietary option for horses with metabolic syndrome.
Stop into Argyle Feed Store located in Argyle, Texas for your supply of equine needs including Triple Crown Senior Gold Equine Feed. We have a large variety of horse feeds, supplements, treats, and more. Have questions? Please contact us and a helpful member of our staff will reach out to you.
Find out more information on Balancer Gold Horse Feed on Triple Crown's website here.