Whole Earth Farms Dog Food
Argyle Feed Store is pleased to offer Wold Earth Farms Dog Food. Whole Earth Farms is a wholesome line of naturally nutritious dog and cat food that offers all the goodness from the earth at a great value.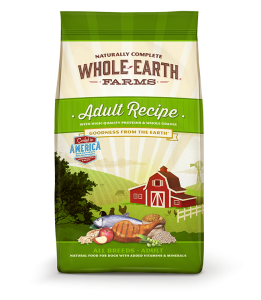 Whole Earth Farms kibble and canned recipes (including new grain-free options) are cooked in the USA with high quality, natural ingredients that deliver complete and balanced nutrition. Now with more high-quality protein, the All-Natural ingredients help support: easier digestibility, less shedding, shinier coat, increased energy, stronger nails, and healthier skin. We put in only the good and leave out the rest: no corn, no wheat, no soy, no by-products, no artificial colors, and no artificial preservatives.
FIRST INGREDIENT IS QUALITY PROTEIN – 26% IN EVERY RECIPE
INCLUDES PROTEIN FROM CHICKEN, TURKEY, AND WHITEFISH FOR BALANCED AMINO ACIDS
WHOLE BARLEY AND BROWN RICE PROVIDE QUALITY CARBOHYDRATES FOR ENERGY
Whole Earth Farms is the perfect choice for pet parents interested in exploring natural pet food. Stop by Argyle Feed Store today to get your Whole Earth Dog Food today! Let us know if you have any questions, we would love to help.