Zignature Essence Dog Food
Zignature Essence Dog Food is formulated to serve your canine companion's needs by delivering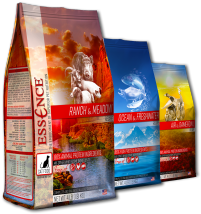 the highest quality, well-balanced diets.
Zignature Essence is a premium pet food brand consisting of 85% animal protein with no flaxseed, alfalfa, potatoes, green or field peas, and sunflower oil.
Available in wet and dry formulas for both dogs and cats, Essence is a clean formula product that meets the needs of pet owners seeking a product with specific ingredients they wanted to either change or add to their pet's daily nutritional diet.
Zignature Essence dog food offers three unique formulas with the main ingredient being a meat or fish protein, backed by meat or fish meal. Formulas available are Ranch & Meadow containing boar, goat, lamb, and pork; Air & Gamefowl containing guinea fowl, duck, turkey, and chicken; and Ocean & Freshwater containing herring, sardines, mackerel, and salmon. All formulas also contain chia seed oil, coconut flour, and pumpkin, as well as a custom vitamin pack.
With Zignature, you can be assured you are giving your canine the best! If you have any questions about any of these products or any other products available at Argyle Feed & Hardware, please give us a call or stop by the store today. We are happy to help in any way.