Purina Free Balance 12:12 Supplement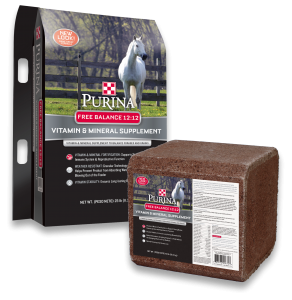 Purina Free Balance 12:12 is a vitamin and mineral supplement with Granular Technology Delivery System.  Also includes added vitamins E and D,  improved copper, zinc, magnesium and potassium levels.  Available in a 25 lb. easy carry bag and 40 lb. block.
Feed Form: Granular Mineral or Block
Recommended For: Maintenance horses on pasture or hay.
Download the Free Balance 12:12 Product Sheet here
Features
| | |
| --- | --- |
| FEATURES | BENEFITS |
| Granular Technology Delivery System™ | Loose Mineral contains Granular Technology Delivery System™ that provides weather resistance and the availability of readily absorbable essential nutrients. |
| Vitamins and Minerals | Provides 100% of the required nutrients for horses when fed as directed* so no additional supplements are necessary. *Based on "Nutrient Requirements of Horses Sixth Revised Edition – 2007" published by the National Research Council. |
| Added Antioxidants | Vitamin C and Vitamin E help reduce the damaging effects of "free radicals" and support the immune system. |
| Feed with Hay or Pasture | Nature's Essentials® Free Balance® 12:12 mineral is designed to be fed with hay and/or pasture. |
| Feed Guard® Nutrition System | The FeedGuard® Nutrition System is one of the industry's most innovative and exacting quality assurance programs. FeedGuard®Nutrition System can help deliver the trust, quality and performance that horse professionals demand every day. |
Analysis
| | | | |
| --- | --- | --- | --- |
| CALCIUM (CA) | MIN | 12.00 | % |
| CALCIUM (CA) | MAX | 14.00 | % |
| PHOSPHORUS |  MIN | 12.00 | % |
| COPPER (CU) |  MIN | 1740 | PPM |
| SELENIUM (SE) | MIN | 35.00 | PPM |
| ZINC (ZN) | MIN | 6800 | PPM |
| VITAMIN A | MIN | 80000 | IU/LB |
| VITAMIN E | MIN | 1400 | IU/LB |
Directions
Feeding Recommendations: Free Choice: Set Free Balance® 12:12 vitamin and mineral supplement in a large tub or mineral feeder under shelter or in a run-in shed. Research shows horses consume on average 2 ounces per head per day. Horses will eat more than the average some days and less on other days. Some horses will over-consume this supplement when first given free choice. If excessive consumption (more than 4 ounces/day) occurs for longer than 2 days, remove access for 2 days, then return to free choice. If over-consumption still occurs, try the Free Balance® 12:12 vitamin and mineral supplement in loose mineral form. Follow the measured feeding directions to top dress the horse's regular grain or concentrate. Measured Feeding (Loose Mineral): Use the scoop provided to top dress 2 ounces once daily per horse onto regular grain or concentrate. Important Considerations:
Feed at regular times (at least twice daily). When feeding rates exceed 1% of body weight, three daily feedings are preferred
Any feed changes should be made gradually over a period of 7 to 10 days
Changes in the rate of feeding should not exceed one pound per day for each horse
Feed along with at least 1-1.5% of horse's body weight of good quality hay or the equivalent in pasture to make a complete ration
Have plenty of fresh, clean water available at all times
Prevent the rapid eating by the horse of any feed stuffs
Store feed in a dry, well-ventilated area protected from rodents and insects
Do not feed moldy or insect-infested feed to animals as it may cause illness or death
This product to be fed to the animal species as directed on the label
In addition to nutritional care and consultation, be sure to make regular veterinary checkups and farrier appointments part of your horse wellness program