Red Flannel Dog Food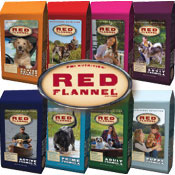 Argyle Feed Store is proud to carry a large selection of Red Flannel Dog Food. We take pride in providing the best quality dog food for your pet. We have puppy food, food for elderly dogs, high protein foods, and even foods designed for large breeds. Thats right, we have the Red Flannel Dog food for your dog at every stage of life. Did you know that we offer a pet food loyalty program that helps you save money while getting the best for your pet? This is just a simple way of saying thank you to our loyal customers. If you would like to see our selection of Red Flannel Dog Foods, including a nutritional profile of each food, then please click here to view our pet food page.
Here at Argyle Feed Store, we are committed to making sure you find exactly what you are looking for. If you have any questions about these great feeds from Red Flannel or any other products we offer, then please click here to visit our product page. We will be more than happy to answer any questions you may have.