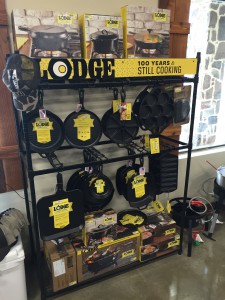 Find a great selection of Lodge Cast Iron Cookware at Argyle Feed & Hardware! As the only full line of American-made cast iron cookware, Lodge boasts quality that has been unmatched for over a century. Even heating, a natural easy-release finish, versatility and durability are the hallmarks of Lodge cookware. Lodge Cast Iron cookware is considered by many as family heirlooms that have been passed down from cook to cook for generations.
Argyle carries a variety of Lodge seasoned skillets and matching covers in various sizes to meet your needs.  If you are looking for a specific item not in stock, let us know and we can order it for you. Everyone from Martha Stewart to Campfire Cook Johnny Nix considers Lodge Foundry Seasoned Cast Iron Skillets essential cooking tools. They are perfect for any cooking method from stovetop to grill to oven.  We also carry the seasoned cast-iron griddles, dutch ovens, campfire ovens and bakeware pieces as well as specialty accessories such as grill presses and melting pots.
Does Lodge Cookware need to be Re-Seasoned?
Lodge Cast Iron products come pre-seasoned and, with proper care, you can easily maintain the quality of your cookware pieces for years to come.
Seasoning is simply oil baked into the pores of the iron that prevents rust and provides a natural, easy-release finish that continues to improve with use. Seasoning can refer to both the finish of the cookware as well as the ongoing process of maintaining that finish.
Lodge uses a soy-based vegetable oil to season our cookware. The oil is highly refined, and all proteins that cause soy-related allergies are eliminated. The oil contains no animal fat, peanut oil, or paints. Some cookware may have slight variations in the seasoning finish. These variations do not affect cooking performance, and typically even out with use.
It is very important to maintain the seasoning of your cast iron and seasoned steel cookware by applying a very thin layer of oil after each cleaning. This will help keep you cooking for decades.
Visit us today at Argyle Feed & Hardware to see our selection of Lodge Cast Iron Cookware. Whether you're cooking on an open campfire, over your gas range or oven baking, Lodge cookware quality and versatility will keep you (and your descendants!) cooking for decades to come!