Tack and Horse Supplies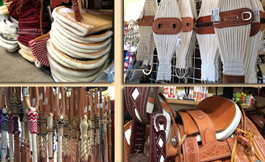 Argyle Feed Store offers more than just feed for your animals. We also have a large election of farm and ranch supplies, including tack and supplies for your horse. If you are looking for saddles, saddle pads, ropes, or tiedowns, then Argyle Feed Store is the place to be. We also know that keeping your horse healthy is a top priority. We have a huge selection of veterinary supplies to choose from, including wormers, hypodermics, grooming supplies and more. If you are interested in our selection of tack, then please click here to view a more detailed description of the products we offer.
Here at Argyle Feed Store we are committed to making sure you find exactly what you are looking for. If you have any questions about these great feeds, then please click here to visit our contact page. We will be more than happy to answer any questions you may have.