Miniature Horse and Pony Food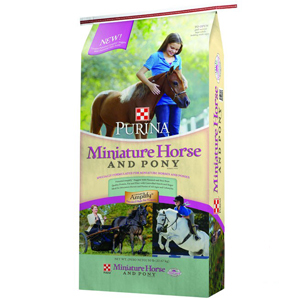 Argyle Feed Store now carries this Purina feed that is specially formulated to get miniature horses and ponies the nutrition they need more efficiently than regular horse feed. Miniature horses and ponies tend to digest their food quicker than other horses, so it is important to get them an efficient diet to aid in growth, gestation, lactation, and breeding. This Purina feed comes in the form of pellets and extruded nuggets. If you are looking for a consistent and reliable diet for your miniature horse, then Purina Miniature Horse and Pony is the feed for you. If you are interested in this feed, then please click here for more information.
Here at Argyle Feed Store, we are committed to making sure you find exactly what you are looking for. If you have any questions about Purina Miniature Horse and Pony, then please click here to visit our contact page. We will be more than happy to answer any questions you may have.
Products
Manufacturers